CAM-1 offers the ESPRIT product line to meet you CAM system requirements.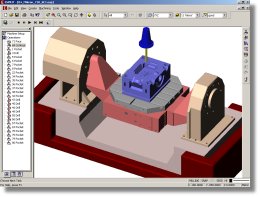 Whether you are a machinist looking for a "friendly" CAM system, or a long time NC Programmer who demands complete tool control and powerful, robust functionality, ESPRIT is The Right Choice!
Getting the job done with ESPRIT is a snap. Machine any part, on any CNC machine, for any industry. Program any 2-, 3-, 4- or 5-axis mill with ESPRIT. Turning with multiple turrets and spindles, with or without power tooling. And wire EDM is simply the best there is.
ESPRIT puts the power of a solid machining engine to work for you, while providing a friendly and familiar Windows interface. Check out ESPRIT's Knowledge Based and Feature Based Machining technologies; they take the labor and guesswork out of many machining processes.
ESPRIT gives you control. With Microsoft VBA (Visual Basic for Applications) built-in to ESPRIT, the power to create macros, build add-ins, and customize your environment to suit your individual preferences is limitless.
When you are ready to cut parts, ESPRIT provides a powerful universal post processor and an extensive library of pre-defined posts capable of formatting your G-code for virtually any CNC machine tool.
High Performance Machining...
Exploit the power.
ESPRIT has all the power you need to machine as you like – on any style mill, lathe, or wire EDM, from any kind of part geometry - solid, surface, or wire frame. The rugged Parasolid based machining engine and OpenGL driven graphics provide solid, dynamic, 3D images for superior on-screen visualization of your work. You'll automatically create tool paths directly from any solid model. ESPRIT's impressive NURBS-based machining performs flawlessly with untouchable accuracy - especially valuable for your HSM (High Speed Machining) challenges.

Machine solid, surface and wire frame part geometry
Program any CNC machine – mill, lathe, wire EDM
Powered by Parasolid, the industry leading core solid modeler
Superior accuracy with NURBS-based surface machining
Dynamic graphics delivered by OpenGL
Solid Simulation and Verification...
Machine with confidence.
ESPRIT will enhance your comfort level before you ever commit to making a chip, thanks to simulated dry runs of material removal and cutting conditions. You'll see the entire machining environment, including fixtures, clamps, stock material and the work piece, generated in dynamic solids. Pan, zoom, and rotate your part at any stage of the machining process; thus you have comprehensive collision detection and complete confidence in the result. Ultimately, you can inspect your on-screen "as machined" part against the original "as designed" version. That's a boost to your confidence as you begin actual machining.

Simulated dry run of material removal and machining conditions
View the entire machining environment, including fixtures, clamps, stock material, work piece
Pan, zoom, and rotate your work piece at any stage
"As machined" versus "as designed" part inspection
Comprehensive collision detection
100% Native Windows Interface...
Discover the advantages
ESPRIT has the familiar look and feel of Windows that helps you get up to speed fast. But a look under the hood reveals the advantages of a pure, native Windows software. For example, with the Tools/Customize menu, ESPRIT's interface can be adapted to the preferences of anyone, from the machinist to the dedicated NC programmer. ESPRIT's built-in, industry standard macro language, Microsoft Visual Basic for Applications (VBA), is the ideal tool for building macros to automate tasks. You can even use VBA to link to Microsoft Office to automatically generate your set-up sheets and other shop floor documentation.

ESPRIT features an Application Programming Interface (API) based on the Windows standard Component Object Model (COM) technology. It means that you can freely extend and integrate ESPRIT using third party "Add-In" macros. Watch for a wide array of useful add-in tools as users like you develop and share them in the ESPRIT Add-in Store.

Designed from the ground up as a pure Windows application
Familiar interface maximizes learning
Integrates with Microsoft® Office for shop floor documentation
Multi-media context-sensitive help
Includes Microsoft Visual Basic® industry standard macro language
Beyond Ease-of-Use - Intelligence...
Experience the freedom.
ESPRIT has harnessed the promise of software intelligence and put it to work for you. As a result, you'll find thoughtful, practical tools and shortcuts that make your job easier and the outcome virtually foolproof. ESPRIT works seamlessly in the background, importing all common file formats, even native files from all the popular CAD systems. Let built-in technology databases (Knowledge Based Machining) automatically select the best machining method for your work piece and then "learn" your preferences for future jobs. Select from canned High Speed Machining cycles to maximize cutting rates, while universal post processors quickly and automatically format G-code to your individual requirements. ESPRIT also comes packed with reference libraries for materials, cutting tools, speeds and feeds, post processors and machining parameters – a wealth of tools at your fingertips. ESPRIT's intelligence lets you whiz through the everyday tasks and supports your most challenging efforts.

Automatically create tool path with Knowledge Based Machining
ESPRIT learns your methods for instant machining
Maximize your cutting rates with high speed machining
Libraries of materials, cutting tools, speeds and feeds, machining parameters
Universal post processors for flexible G-code formatting
Internet Ready...
Realize the potential.
The Internet has evolved into more than a fascinating pastime. The net is on-call 24 hours a day, 7 days a week, worldwide, supporting ESPRIT customers in many ways. You'll launch your browser from inside ESPRIT to log into the CustomerWeb portal. From there you have access to on-line technical support any time, day or night. Or simply share your ideas with, or pose a question to the ESPRIT community in the discussion group. ESPRIT's integrated email makes it easy to send your data files over the Internet. It's a handy feature, especially when used to help illustrate your technical support questions. Meanwhile, the on-line ESPRIT Add-In Store is the machining community's "local corner store", where useful macros are available. Inspired by the potential of ESPRIT's VBA, these macros are built by programmers like you and shared with the community to the benefit of everyone. No matter how you choose to use the web, ESPRIT is ready to be supportive of the process.

On-line 24-hour access to the ESPRIT SupportWeb
Share tips with the ESPRIT community in the WebBoard discussion group
Jump to the CustomerWeb for product news and promotions
Integrated email file transfer