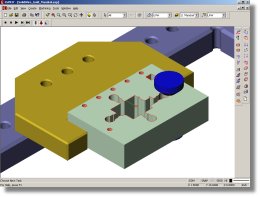 For 20 years DP Technology has partnered with the leading builders of Wire EDM equipment to provide a "factory certified" CAM solution to the world's EDM job shops. As a result, today more Wire EDM machines are programmed with ESPRIT than any other CAM system and ESPRIT is endorsed by all the world's leading EDM machine builders.
High Precision Advanced Geometry Solids / Surfaces...
Wire cut any geometry shape from any source.
ESPRIT is designed for the high precision needs of the EDM world, easily handling the complex, intricate geometry common to EDM. Import geometry from any CAD system or construct it from scratch inside ESPRIT. Take advantage of ESPRIT's flexibility and choose between Solids, NURBS Surfaces, and 2D/3D geometry to machine your part. While many EDM parts are still represented by 2D geometry, the power of Solid and Surface modeling means programming even the most complex aerospace, medical, or die/mold parts is a snap. Optional add-In components exist for the creation of specialized geometry such as form tools, gears, and CAMs.
Knowledge Based Machining...
With global machining strategies.
Factory certified post processors and machine specific technology for
Agie
Brother
Charmilles
Current
Fanuc
Hansvedt
Hitachi
Makino
Mitsubishi
Ona
Sodick
And more...
To request further information on ESPRIT SolidWire please use this link.