---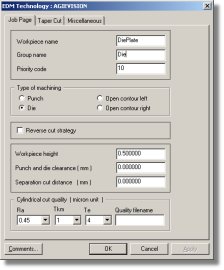 Agie KBM
Every make and model of Agie machine is supported by ESPRIT.
Unique machine capabilities such as dual tapering, upper and lower tapers, and sophisticated advanced conics are covered. For the AgieVision, the KBM accepts the technology settings Ra, Tkm, and Te to create the JOB (G-Code) file. The Agie 123 KBM technology screens include D offset, P taper, S flush, and T power. Reach maximum machine performance by individually selecting different technology settings for the upper taper, lower taper, and land zones of your work piece.
---
Charmilles KBM...
Charmilles users can count on complete control over the advanced and unique functionality of the Charmilles family of machine tools.
The ESPRIT KBM for Charmilles, including the Charmilles control and the Fanuc control, provides support for Charmilles's unique capabilities in advanced tapering, the programming of "twist" parts, and material handling functions such as slug evacuation. The Charmilles control requires three separate files to operate: ISO, the G-Code program; CMD, the command file; and TEC, the technology file. ESPRIT automatically generates all three; the third, TEC, is created through ESPRIT's integration with CT-Expert, Charmilles's database system for cutting technology.
---
Fanuc KBM...
Flexibility and control.
For Fanuc EDM machines, ESPRIT provides the flexibility to control the cutting conditions with a set of user definable technology parameters such as S power and F feedrate for each cut. Selecting one of the cutting strategies will then create a complete machining process including all the rough cuts, skim cuts, and wire thread/cut instructions.
---
Mitsubishi KBM...
With all the factory recommended technology settings.
ESPRIT includes a Mitsubishi technology database, in Microsoft Access format, which contains the factory recommendations for E-Pack (power setting), feedrates, and offsets for a wide variety of cutting situations. By entering the machine model, work piece material and thickness, and desired surface finish ESPRIT will automatically tell you the number of skim cuts required along with the factory recommendations for the technology. The ESPRIT KBM for Mitsubishi provides access to the machines' advanced features: Z1 - Z5 5-axis control, flushing and tank controls, along with the Power Master
---
ONA KBM...
Control over all generator settings.
Get the most out of your Ona machine with ESPRIT's built-in KBM technology. It provides individual control over the 10 generator parameters including off-time, voltage, and servo to increase machining efficiency for unique individual situations. You can also divide the cutting process into 3 zones - land, taper, and glue tab, and for each zone choose to apply up to 6 cuts (one rough cut with up to 5 skim cuts). The result is a simple mechanism to maximize work piece quality and minimize machining time.
---
Sodick KBM...
Cutting processes with up to 10 rough and skim cuts.
The ESPRIT Sodick KBM provides a flexible cutting system where up to 10 cuts may be defined in any combination of forward and reverse cutting strategies to produce a complete process. For each cut a full suite of conditions and cutting technologies may be specified, including control over the machine's advanced features, powered Z axis, tank control, and wire control. Meanwhile, global scale, axis exchange, and rotate functions also may be applied to the work piece.
To request further information on ESPRIT SolidWire please use this link.